archive.php
20-21 April 2023 at Bandholm Badehotel, outside of Copenhagen.
Join us for the opportunity to engage with leaders and practitioners passionate about furthering how to lead with intent in agile environments.
This event is for leaders curious about, or who have hands-on experience with, Intent-Based Leadership®.
It's also for the leaders familiar with leading more intentionally and who want to deepen their learning, share and connect with like-minded people.
Preliminary program outline
Day 1 – 10.00 to 20.00
Arrival and check-in
Meet & greet
Opening Keynote
Lunch
Marketplace (we create the afternoon program together)
Open Space – Sessions with other leaders
Q&A with a surprise guest
Dinner
Evening activities
Day 2 – 9.00 to 14.00
Revisit Marketplace
Open Space – Sessions with other leaders
Closing Keynote
Lunch & goodbye
Your ticket covers the conference, hotel room and food and beverages during the day. The event is not for profit.
Accelerating the shift from a culture of permission and waiting to intent and action
Background
Intent-Based Leadership® (based on former submarine captain L. David Marquet's (Turn the Ship Around) has been around for more than ten years, and many companies and leaders have already adopted this people-centric approach to leadership. We at Crisp and goAgile, see a big potential for leaders to get together and share their successes and intelligent failures – and maybe even create new relationships.
The challenge
Most leaders today realize that command-and-control is not working. Most empowerment initiatives end up being superficial.
This is where Intent-Based Leadership® comes into play. IBL is a very practical and powerful approach leading to creating an environment where people feel truly empowered.
We have met many leaders who have a positive personal experience with IBL. We have also met several leaders who are struggling to harvest the benefits of IBL. We want to connect these change-makers, to leverage together, build a community, and learn from each other. In this way, we can create an even bigger impact on organizations and communities.
Book your place at the Intent-Based Leadership® Summit 2023 via the following link:
Are your Agile teams and programs succeeding because of or in spite of your governance structures?
In most governance setups I have experienced (traditional or "so-called Agile"), artifacts/documents seem to play a major role: RACI matrices, one-pager templates for initiatives and epics, status reports, cost-benefit calculations.
You get the picture.
Contrast this with most Agile teams I've met where the driving force for the governance setup is a series of conversations between team members and their stakeholders. The more the team members involve their stakeholders in the conversations, the better chance the team has to succeed and deliver actual business value.
Before we dig deeper into how this relates to governance and empowerment, allow me a little side-comment on processes:
Any process covers these three elements:
Roles
Interactions
Artifacts
So:
Roles: Who's doing it?
Interactions: How are they doing it?
Artifacts: What is the documentation around what they are doing?
Here's how the three process elements seem to be prioritized at the organization's governance level and at the team level:
| Governance | Agile teams |
| --- | --- |
| 1. Artifacts | 1. Interactions |
| 2. Roles | 2. Roles |
| 3. Interactions | 3. Artifacts |
Agile and the focus on value over processes
Over the last couple of decades, Agile has inspired development organizations to focus more and more on customer value and less on formal processes. This change started at the team level with XP and Scrum, and has (for the most part) been overwhelmingly successful.
About a decade ago, as Agile teams and programs became the majority of many portfolios, we could no longer hide them away in a corner in the organization giving them the "you-don't-need-to-follow-the-governance-rules pass."
We needed to start catering for agility in our PMOs and our governance. Frameworks like LeSS and SAFe® saw the light of day and gave us some ideas about how to handle Agile at the management levels in our organizations.
It does not help to simply add the magic Agile "A"
If the main focus is still on artifacts and checklists and following up on the original plans and business cases, adding A (for Agile) to the PMO so that it becomes APMO, or renaming your cumbersome budgeting processes to Lean Portfolio Management will not help. If that is still the mindset, it doesn't matter how many acronyms you have that start with A.
What we need to do instead in our PMOs and Governance structures is to:
Welcome changes when there's an option to change direction and optimize the business value we're creating, rather than to stop or limit changes with (for the most part) cumbersome Change Management processes.

Help our Agile programs and teams with ways to demonstrate that they are in control. By setting up structures that support planning and replanning at some agreed upon frequency, in a manner that makes it feel more natural to replan frequently rather than to not revisit the plans at all.

Support and help facilitate frequent interactions across teams and programs and stakeholders inside and outside of the company to actively pursue synergies – to foster an environment where it's expected to challenge the original plans, the status quo and the traditional lines of command, if and when that can lead to optimizing business value.

Rethink which competencies we need in our PMOs in order for our governance to shift from a control mechanism to a system that supports the Agile teams and programs. Some structure and budgeting focus are still needed in most PMOs, but I predict that future PMOs will have more innovators and facilitators than controllers and managers.
By doing these things, we can balance governance and empowerment so that PMOs will not primarily have focus on structure and checklists, but also shape the path for innovation and chasing business value.
And, we can enable Agile teams and programs to not primarily focus on changing course, but also pay attention to their spending and communicate and coordinate their changed plans to the rest of the organization, including the PMO.
That being said, I want to make this crystal clear:
While some Agile teams need to pay a little more attention to the organization's need for control, PMOs and governance have much more to learn from Agile teams and programs than the other way around.
My advice to all PMOs is make more room for empowerment and optimizing business value by adjusting your governance processes and mindset to welcome change. Support re-planning; encourage frequent interactions and facilitate those interactions.
BALANCING GOVERNANCE & EMPOWERMENT
Governance mindset "wins" over empowerment mindsetWHAT TO DO:

Empowerment mindset "wins" over governance mindsetWHAT TO DO:

Stand back and let teams make decisions (give control, increase clarity & competency)
Reporting should mainly rely on what is seen in the demos (not just the planned vs. actual velocity)
Use burn-up charts based on high level master planning for the program management view

Facilitate that people hold each other accountable
Delay decisions only to last responsible moment – facilitate the decision-making process and gaining acceptance of the decisions
Use master plan to drive decisions and deliveries
"They say that Agile should give us more business value, but…"
People working in Agile organizations say this frequently – and of course, they're right. Agile only brings us more business value when:
Everyone has clarity about what business value looks and feels like
We have sliced our desirements/objectives in a way that drives us toward potential releases
We have a culture of curiosity and psychological safety
Unfortunately, many sacrifice clarity on the Agile alter, not even trying to build a shared high-level view of the benefits we want to create.
In this webinar, I go deeper into 3 reasons why Agile doesn't work, causes and ideas around how to solve the problems.
Watch the recorded webinar here:
Online meetings and workshops are here to stay. However, so many of them are boring and fail to involve and engage participants. If we don't involve and engage people, we will never create ownership for the results from the workshop.
What you want
Nothing beats face-to-face in terms of meeting effectiveness, so we want to get as close to face-to-face as possible despite the glass barrier (the computer screen) between the participants. We want to find ways to convert successful face-to-face workshop techniques into something similar that can work via web-tools.
In other words, we want to run online workshops, where people "forget" that it's actually an online workshop and act as if they were in a face-to-face workshop.
Tips for involving & engaging people in online workshops
1. Create something together
Like in face-to-face workshops, you want the participants to create something together. You want to involve & engage people and have everyone contribute. Using Google Docs, Miro, Mural or another collaboration tool, where everyone types, moves, formats and deletes text or notes simultaneously is one highly recommended way to get involvement in an online workshop.
(When someone from the other side of the planet corrects one of my typos seconds after I make it, I feel connected and it feels great!)
2. Everybody has "hands"
To involve and engage everyone in online workshops, everybody needs to have "hands" – same as they have in a face-to-face workshop. For example, in face-to-face workshops, everybody can pick up a pen and write something on a Post-it note or whiteboard.
In online workshops, we need to copy this – and we do this by making sure that everyone has their own computer and thereby their own keyboard and mouse – the equivalent of the face-to-face pens and Post-its.
The natural thing to do when you have smaller groups of people in the same physical locations is to have them participate as a small group, sharing one computer, one keyboard and one mouse. While there are good things to say about this approach (relatedness, togetherness, etc.) – there are more disadvantages to this approach in the workshop – the biggest problem being that we limit their hands-on participation.
3. Collaboration tools need to be implemented – not just installed
While the online collaboration tools are only 10% of an online workshop – the tools are a prerequisite for the remaining 90%, which is the content. Therefore, it needs to be someone's main responsibility to make sure that the tools are well understood by the participants – to a degree that nobody really thinks about the tool anymore.
There are a couple of things to say about this:
When the IT-department is responsible for the tools, they most often think that their job is done when tool is installed (or works) on everyone's computers. While this is true from a pure technical standpoint, it creates no value whatsoever if the people do not feel comfortable using the tools as a natural part of their daily work.
For the first few times a new tool is used for collaboration, it works really well to have two facilitators for online workshops: A: One technical (co-)facilitator, who's not just taking care of technical issues, but who also cares about how/if the participants seem to be able to do what they want to do via the tool. B: The other facilitator can then focus 100% on the people and the flow of the workshop.
4. Your dream tools
Remember, that we want online workshops to be as close to face-to-face workshops as possible. Therefore, the tools we want should be as close to Post-it notes, whiteboards, physical things as possible.
That means the tools should be:
Visual (so it's easy to create visual elements)
Collaborative (everyone can work on the same artifact simultaneously)
"In your face" (as if the stuff was on your wall – by having a projector or big screen that displays the stuff at all times).
We want to have both a collaboration tool to give hands, and the meeting tool so that we can talk with each other, see each other and take advantage of break-out rooms.
5. Back-up channel
Until you're very familiar with a certain tool, it's very helpful to have a parallel connection on the phone for solving technical problems. It's just too hard to solve Teams or Zoom issues via a bad Teams or Zoom connection.
Key takeaway: mimic face to face
Mimicking a face-to-face workshop process is the best way to create ownership for the results because you're involving and engaging your people.
Remember you need a meeting tool (to see and talk with each other); a collaboration tool to "give people hands;" and finally, the facilitation process used in any kind of workshop as your backbone.
In scaling Agile ways of working, frameworks suggest that we "organize around value" and that we foster "organizational Agility." Of course! This is common sense. So how do we make it common practice?
Change the way we work with organizational change.
OLD WAY: Line organization drives the change
In most companies, the line managers are in charge of how we change the line organization. In this scenario, the line organization drives the value organization.
We've seen numerous examples where the departments are simply renamed; for example, "Digital Solutions" in a bank becomes the "Digital Value Stream." Very convenient and with no loss of employees or status for the Digital line manager.
This, however, is NOT organizing around value because Digital is playing one of many roles in other value streams such as Housing and Investments, but Digital is not a value stream by itself.
NEW WAY: Customer value streams driving the change
We need to turn this around so that the customer value streams drive the line organization set up.
Start by identifying our most important end-to-end customer centric value streams, and then (without thinking about the number of departments and line managers) form teams of teams around those value streams. Then, we can design the line organization as a support system around the value organization.
Now we have a value-driven organization where the individual teams of teams have clarity around the purpose of their work: to improve, love and run their value stream.
In addition, we have leaders in the line organization supporting all the people in the value organization and taking responsibility for building people's technical competence.
Clarity + Competence = Real Empowerment
With clarity and competence in place, we have the two pillars of Intent-Based Leadership® that support how we can GIVE CONTROL to our employees, creating an environment where people feel empowered and motivated.
The quick how-to for changing how we make organizational change
Identify most important end-to-end customer-centric value streams

Decide on the number of teams and the competencies needed on each team to support each of the value streams

Communicate to the rest of the organization and ask for feedback

Ask "everyone" where in the new organization they would prefer to work, and if they have a preference for others they would like to work with (ask for a 1st and 2nd priority for both)*

Put the puzzle of people, their preferences and the future organization together

Implement the new organization.
Using these tips, we can organize around value and foster organizational agility, leading to reduced lead times, happier people and happier customers!
*Yes, I really mean involve your people in creating the new organization
Really..!!?? Should we ask our employees what they want to work with – and who they would prefer to work with?? Isn't it my job as a manager to make those decisions? And what if we cannot honor the preferences people have? Isn't it better not to ask them rather than potentially disappoint them?
These are questions we get over and over again when we're suggesting this way of including employees in those decisions.
In our experience:
People almost always end up getting their 1st choice. Only a few times have we seen a few people "only" getting the 2nd choice. And we have never seen anyone not getting either their 1st or 2nd choice. Tell people in this process that you will do your best to make their top choices happen, but that you cannot guarantee it. In this way you set realistic expectations.
Most leaders believe they know exactly what their employees want – and most leaders get surprised when they ask their employees anyway.
Leadership teams who decide to involve their employees in these decisions (while it might seem a little scary at first) always find it awesome once the change is made.
Employees LOVE it. "It's the first time I have ever been asked about my preferences in an org change. It's awesome – I feel valued and listened to!" This is an actual quote from Lisa in a Danish bank – and we hear many, many similar comments.
Scaled Planning
Scaled planning, including slicing and master planning, is a pragmatic approach to help you with your scaled planning challenges. Scaled planning uses the organization's overall strategic objectives (the target in the middle of the illustration) as the starting point, and from there involves four levels of planning:
Slicing
Master planning
Big room planning
Sprint planning
Why big room planning?
There's a lot of skepticism out there about big room planning. The questions I hear over and over again are "Really? Is it necessary and worth it to have everyone spend two days every quarter to plan? And how can it even function with up to 100 people or more to plan together?"
Once you have tried it, you know the answer to those questions: yes, it works. Very well actually. And yes, it is worth it. I've seen this way of planning save programs from big time failure. Several times.
Let me give you a couple of examples.
The first is about the Mifid program that was in deep trouble delivering anything. Then they started to organize themselves differently and they also started to plan in a far more involving way than before. And now they're back on track. This is the story in the first article Scaling Agile – a real story.
A more recent story is about a program I was consulting with recently, who is developing an app for its customers. The program consists of three teams: Digital, IT and Retail. The program has been working on this for around two years, and have, up until a few weeks ago, only delivered a two-week pilot with 50 customers.
When I started with the program a few months ago, I heard a lot of "but we do not know what they're even thinking in Retail" – and "are any of the Digital people actually doing anything – I have no idea" – and "how come things take forever in IT – it's just an app?"
After a couple of months and several master planning sessions with people from each of the teams, people finally stopped talking about all the reasons why we would never make it. They started talking about what it would take, and managed to slice and prioritize some epics, some potential releases.
The teams were still reluctant to prioritize time to talk to each other. They were busy with their own stuff. IT, who is building the app, wanted to stick to their Scrum processes, their sprint goals and not jeopardize their planned velocity. They had no interest in the content of the app, that Retail struggled with, and no interest in the design and the look and feel, that they called "glitter." They saw these things as someone else's job. They were building a car without a motor and without a way to get gasoline.
I managed to get them all together for a big room planning. Each of the teams broke down the epics into maximum two main tasks per team, per week. They also created a program board, and discussed the dependencies between tasks and people. Towards the end, someone from IT suggested to meet every morning at 9:15 to hear what the others were working on and to coordinate. Many people were thankful after the big room planning – they had a good time and said how great it was to finally have some meaningful conversations with people on the other teams.
Just two weeks after the big room planning, we were ready. The app had been submitted to the App- and Play Stores and the customers were starting to download, use and benefit from the app.
So, back to the questions about big room planning: Is it worth it? Can it work?
YES.
One last argument: two days every quarter is 3.3% of people's work time – no matter how many people you have in your program. So if big room planning gives you more than 3.3% more productivity in delivering value, then big room planning is a good investment.
Big room planning in short
Big room planning is two days of planning together with all program and team members every quarter.
Based on the master plan and the program goals, all teams are talking through how they each will contribute to reach the program goals during the next three months.
They do that by breaking down the epics from the master plan into features, discussing, estimating and prioritizing them and giving their best shot at how many features they can achieve each of the next four 2-week sprints.
Several times during the two days, teams gather by the program board and post and discuss their individual features. They discuss the overall picture, sort out the dependencies and move features around to build the best possible overall plan.
Towards the end of the two days, team and program objectives for the three months are agreed upon, and risks are discussed and mitigated.
Getting ready for the big room planning
As the "scaled planning" illustration shows, you need to get your slicing and your master planning right to get a successful big room planning.
Also – to get completely ready – you need a few more things:
Agree on who will share and update everyone on the program vision.
Agree on who will demonstrate the current state of the solution and the overall architecture.
Talk to the program stakeholders, and make sure that you get the right people in the room. You want to have sufficient knowledge and mandate present at your big room planning.
Have all the epics of the master plan – with estimates and priorities. I prefer to bring each epic on an A4/letter-size and post them on the wall, so everyone at all times can simply walk up to them and talk about them.
Gauge the agile & Scrum maturity level of the teams – and arrange for facilitators accordingly. The lower the maturity level, the more facilitators you need. Up to one facilitator for each team, if they are green on Agile, breaking down epics and estimating them using planning poker. I prefer to have external facilitators who are not a part of the program, and with substantial experience in scaling agile.
Pack enough decks of planning poker, post-its, markers, red string for dependencies, tags, etc.
Getting the right room and set it up
While this is a part of the above "Getting ready for the big room planning", the room is getting its own paragraph. The reason is that this is both very important and yet often not getting enough attention from organizers of big room planning sessions.
The physical setup can make or break the big room planning, so please take it seriously:
Make sure to get a room that is big enough for everyone – and to hold one table for each team plus one table for the other program roles and stakeholders. My rule of thumb is to find a meeting room for the number of participants times two. One room, not two or more rooms close to each other, because the flow of communication between teams and people will suffer if you are not all in the same room.
Set up the room – preferably the day before the big room planning. Get the tables organized. Hang up the master plan where everyone can see it. Get the team-planning posters up on the walls by the teams' tables. Get the program board ready, and display relevant program posters – e.g., the program vision, the use case diagram, etc.
The icing on the cake:

Show the start- and end-dates for each sprint on the program board, to make it extra clear that this has been decided up front, and to make it easier for everyone.
Get the teams to write the names of the product owner and the Scrum master on the program board to make it easier for all participants. There's a lot to comprehend and remember; let's make these names not one of the things people have to remember.
Have name tags for all participants, to make it easier for people to remember each other's names which also helps build relationships.
Running the big room planning
The morning of…
Finally, the big day has come. This is the morning of day 1, and you're in the room at least one hour before the program starts. Maybe two hours, if you did not setup the room the day before.
I suggest doing a final briefing with your fellow facilitators and key stakeholders, who include the program leader, a program architecture responsible person, and business stakeholders (those representing the employees and/or customers, who will benefit from the product developed by the program), to run through the program and the roles one final time.
I also suggest assigning named facilitators to the teams, so each team is only/mainly getting support from one facilitator, so that the support and advice will be more consistent than if they get it from different facilitators.
Make sure that you finish this last-minute prep in time for you and the other facilitators to greet people when they get there and show them to their tables.
1. Purpose
We're here to make a plan for the next three months, where the program wants to achieve XYZ.
If this is one of the first big room plannings in the program, then I recommend making it clear that most things will probably go well, and that there will most likely also be some hiccups during the 2 days. And that you hope that everyone will be forgiving and see those as learning opportunities – something to improve for next time.
The XYZ is the helicopter view on what's in the master plan for the next three months, not just the individual epics, but also the purpose and a brief description, the essence, of what is planned. So this is reminding everyone of "the big why", which is the purpose of the program as a whole). And equally important, sharing "the smaller why", which is the goal for the next three months.
2. Program vision
Present/remind people about the (updated?) program vision
Here we want to get a key business stakeholder to give a pep talk, to remind us about why we're here. To explain why the program strategic objectives are (still) important for the business and for the company as a whole. Storytelling is better than Powerpoint for this, and even better if we can get the stakeholders to tell his own story about "why this is important to me personally."
3. Solution & Architecture
Remind everyone how far we are with the solution, by giving a brief live demo of the actual product, or by having a visual overview over what has been delivered, and what is still missing. Also repeat the architectural guidelines, and share the newest changes of the technical foundation.
4. Master plan
Have everyone get up, and "walk the master plan" together while explaining it. Spend most of the time on the next three months. Also cover the following quarters, just to remind people about what we're not working on now – but spend less time on that.
5. Teams and epics
Which teams have stakes in which epics
The best way to explain this is by repeating a small part of the first article in this series "Scaling Agile – a real story." We enter the story at the 2nd big room planning, where we're trying a different approach than at the first big room planning, where each team chose the epics they thought belonged to them, with little or no discussion with the other teams about it.
"Then the teams gathered around the epic overview board, and this time we asked them to think about all the epics in which they played a role, even if it was a small role. We then got everyone to put a small colored sticky note representing their team on those epics (see illustration Epics & teams II). After one hour, we had an overview of which teams were primary drivers on which epics – and which other teams were also involved in each epic.
It surprised us how powerful this was. There were a lot of people standing by this board, coming and going throughout the two days, and it was usually people from different teams having a discussion about what they needed from each other. How they could help each other?
6. Team breakout intro
Explaining the specifics of the teams breaking down epics into features, and estimating and prioritizing them
Reminding people about the remaining agenda for the two days, and presenting all the details of the process. I usually include things like:
For each team – who will be your main facilitator
Have each team get an overview of the team's capacity for each of the next five sprints. An example: you have a team with six people including the Scrum master and the product owner. One person has one week vacation during the 2-week sprint. Each person counts 4 points per full week. So, on this team, the capacity for this sprint is 5×8 + 1×4 = 44. Get the teams to write this on their team sprint posters and on the program board. A couple of comments:

If this is one of the program's first big room plannings, then I usually get all teams to do only this step, and share their team capacities with the other teams.
Why not five points per person per week? History has proven, that people have always been too optimistic when we're planning. Counting only four points per week (sort of equivalent to four days per week) is a mechanism to make up for the optimism.
Why include the Scrum master and the product owner in the capacity? Because building a product is far from only "putting it together," e.g., writing and testing the code in software programs. It also includes a substantial amount of business discussions, decisions, coordinating etc. In other words, the work of the Scrum master and the product owner.

Next, explain how we want teams to break down their epics in 3-5 features per epic (with fewer features you're only scratching the surface – with more, it is impossible to get the overview at the program level).
We want the features on Post-its. For each feature, ask for a short name, a description, a reference to the epic and an estimate. See Validate pincode example.
When the estimation starts, start by finding a feature, that can be achieved by one person in one week or by two people in 2.5 days. Give it a 5, and estimate other features relative to that.
Other than that, the teams can just go ahead and break down into features – just like they would break down into stories in a Scrum sprint planning session.
Repeat that teams with regular intervals will be asked to share the results of their planning with the other teams by the program board.
7. Team breakout
Simply let people follow the instructions from the Team breakout intro. Make sure, that the teams get the right amount of attention from the stakeholders and facilitators. Not too much to disturb them, and also enough to give them the guidance they need.
8. Program board
Teams post their initial plans on the program board and start coordinating with other teams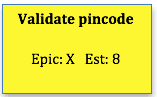 Give teams a 15 to 20-minute warning before the first gathering at the program board. Ask them to write a Post-it for each of their features, but for the program board without the description in order to create a cleaner and better overview.
When the time is up, get everyone up by the program board, and get one from each team (probably the Scrum master or the product owner) to place their features in the sprints where the team thinks it belongs.
You might need to encourage a discussion about dependencies between the teams and features, but chances are that the teams will start discussing this without your help, when they have it in front of them.
Help visualize the dependencies by connecting features that are dependent on each other with red string. Encourage teams to finish discussions about dependencies on the side once the dependencies have been identified, unless it is a dependency that involves all teams.
A tip: have the first gathering by the program board earlier rather than later- no later than a couple of hours after the first team breakout starts. You will probably get some resistance from the teams, because they do not feel ready yet. If you wait too long, you will not get the cross-team collaboration you get if you do it early. It is amazing to see how teams are cross-pollinating a lot more after the first program board gathering.
9. Repeat
Team breakout and program board discussions are repeated – typically 1-2 times before the final program board gathering. Remember to gently force them to meet by the program board every 1-2 hours – even when they're not feeling ready in the individual teams. It will nudge them to collaborate and coordinate more across teams.
10. Team breakout
Continued from day 1, while teams are encouraged to coordinate with other teams and stakeholders
After this team breakout, you should start to see the outline of plans for each team. If they have not put their features up on the team planning posters yet, now is a good time to get them to do that. It makes it easier for the teams to understand what the other teams are planning, when they visit each other.
11. Program board
Finalizing the program board with all teams' features and dependencies. Remember that the plan just needs to be good enough. It will be revisited every day, and details will be sorted out later.
12. Risks
Teams are bringing up risks, and they are discussed and mitigated in the plenum. Some risks result in a mitigation activity, which we want to go on a team's plan and/or on the program board, so we do not just talk about it, but actually do something about it. Other risks are just accepted. Spend most of the time on the top 3-5 risks, and just list the others for now.
13. Program objectives
Teams formulate their essential business objectives and then the program objectives for the 3 months are agreed upon.
In a program with many teams, opinions, epics and features, people often need help to navigate and remember what the overall purpose is.
To help with the navigation we get teams, guided by the product owner, to describe a few overall goals for the three months. Then we ask the product owners to get together with the business stakeholder(s) to discuss and agree on a few program objectives for the three months. The fewer and shorter the objectives are, the stronger they are in order to help the entire program navigate towards a common goal.
Here's an example of a program objective from a program, that really struggled to go live:
"Run on live data"
14. Confidence vote
On a scale from 1-5 – how much does each team believe in their plans
As a final test, we can get the Scrum masters for each team to ask the team members about how much they believe in their team's plan, and possibly also how much they believe in the plan for the entire program, by a show of fingers up to 5.
I suggest that you only do this if you follow up with a discussion about why the numbers are not higher, and most importantly, how the plans or circumstances can be changed, so that people can believe more in the plans. A good question is: "What would it take to get you closer to a 5?"
15. Next steps
Usually the next step is for the teams to make a sprint planning, and then get going on the work.. Also talk about which other things will happen in the near future, and remember to thank everyone for their time and corporation.
16. Keep & try
Reflecting over the two days of the big room planning
Remember the opening comment about potential hick-ups during the big room planning?
This is where you gather input for how to make it better next time. My personal favorite is asking people to write the following on a Post-it:
A number from 1-5 (5 is best) for what they thought about the two days
One thing to keep for next time
One thing to try to do different next time
Get people to put them on the door on the way out. Take a picture when everyone has left – maybe read them, but wait until you prepare your next big room planning before you think much more about it. At this point in time, after two days of big room planning, your brain is probably fried, not able to reflect rationally anyway.
After the big room planning
If you want to harvest the benefits of the big room planning and keep up the good cross-team collaboration, then I suggest that you have a Scrum-of-Scrums by the program boards every day after the teams' standup meetings.
The agenda is the same as the standup meetings, except at the Scrum-of-Scrum the sharing is for each team rather than each team member.
As the facilitator or program leader, you might want to end each Scrum-of-Scrum meeting with one of my favorite questions:
What can I or others do to help you achieve our program objectives faster?
But only ask that question if you're willing to gather those impediments and get them out of the way. I like to refer to this as impediment busting, because it sounds more cool and powerful than stakeholder management and risk mitigation.
Conclusions
Big room planning provides an overview of all the work to be done in the next quarter. It's two days of planning together with all program and team members every three months.
Ensuring there is a common understanding of the overall direction using a master plan is a must in order to realize the goals of the big room planning.
Facilitation plays an extraordinary role in the success of the planning. Make sure you have skilled facilitators and a room that is large enough to hold people, tables, planning boards and all the materials needed to make the plans and dependencies visible.
Finally, as with any agile practice, pausing to reflect on what went well and what to improve in the next big room planning is invaluable.
Call to action
Next time you find yourself in a program with more than 2-3 teams, try this out. Set a date for a master planning and a big room planning a few weeks ahead, and then invite people and start getting ready. Set it up as an experiment, if there's too much resistance.
And if you have already tried a big room planning and been disappointed, give it one more chance. If you follow the tips of this and the other articles in the series, I am sure that you will have a better experience next time.
Maybe you will even end up like Martin, a program leader on a CRM program in a bank I am working with at the moment. After a master planning and a big room planning that we ran the last couple of weeks, he said "I am in love with scaled planning. Before we were wasting millions supporting processes that the business didn't care about. And we didn't even know. Now we are aligned and creating value for our customers again."
And then he added "We should have done this sooner."
The series
This article concludes the series about Scaled Planning, consisting of the following articles:
Scaling Agile – A Real Story
Scaling Agile – Slice and Understand Together
Scaling Agile – Master Planning Together
Scaling Agile – Big Room Planning
I hope that you will share your thoughts about these articles, try out the tips and tricks – and finally, that you will let us know how it goes.
Getting started
The only right way to start a new development effort is to get slicing and a common understanding in place – and it is very difficult to do.
Perhaps you might think you have it in place, and then you start planning and developing, and find out that actually you did not have a deep enough common understanding. What I've learned over the years is that the only way to find out if you're actually ready for planning and developing is by starting planning and developing. And chances are the first time(s), you're not ready.
That's okay, or at least it is very normal. Then you know that for next time. You have learned something. You've also created awareness for everyone that we need to spend more time and effort on this next time.
Slicing
Let's go deeper into what we mean by "slicing."
After we have an overall idea of the value we want to deliver, it's time to break up the work into smaller chunks that we call epics; it's time to do the slicing.
And just like there are many wrong ways to cut a cake (horizontally, too big/small pieces) – and only one right way (vertically from the center out to the edge and down), there are also many wrong ways to organize the requirements, and only one right way.
There are (at least) three ways people break down a system into epics:
Waterfall (wrong)
Layers (wrong)
Slices (right)
In summary, we want a breakdown of all the work in smaller pieces. We call the pieces epics, and we want each epic to be one slice of the system.
Waterfall
Waterfall is a step-by-step approach with handovers between parts of the project. Here's an example, a waterfall way of looking at developing a new ATM:
Analyze banknote combinations, that people prefer
Design overall UX principles
Write the Project Initiation Document (PID)
Set up test strategy
Customer focus group interviews
Templates for status reporting
Technology assessment
Review and approve PID in steering committee
Overall technology
Prep and run project kickoff
This is not the way to go.
Don't get me wrong. All of these things are relevant and important. And often we need to do some initial thinking and shaping the product before we start building it. Some refer to this initial work as "sprint zero."
However, the above is a list of activities, not a list of things to develop to create customer value. Experience (and Agile) has taught us that having "pieces of things you want to develop to make the customer happy" serve as the best possible building blocks for our planning, the best possible drivers for our work. A focus on making our customers happy is the way to go. During our development efforts, we will then be able to do the necessary amount of analyzing, designing, testing, kickoffs, etc.
Layers
Here's another way of looking at the planning. This is a more "what-do-we-need-to-build" kind of plan.
Setup loadbalancing servers
Define and program the business logic for bank note combinations
Build the user interface
Build databases – based on information modeling
Set up backup system
Transaction log
Hook up ATM system to banksystems
This is also not the way to go.
Despite the fact that the above are all "chunks we need to build/develop," they are still not a good way of breaking down the work we need to get done. Why? Because none of the above chunks are, by themselves, making any customer happy. By following this strategy, we could build the most wonderful user interface, have the users check it out and maybe even love it, and then later find out that the bank-systems we're hooking up to do not have the information we needed for the user interface. Or we could create a state-of-the art database structure and connect it to the bank backend systems with great interfaces, and then build the user interface and find out that some piece of information that the user really, really wanted to see (e.g., which ATM did I last use or which amount did I withdraw?) was not stored anywhere.
Again, don't get me wrong, I know that all of the building blocks in the above list are necessary to develop, but they are not the best building blocks for your planning. They are "layers" in the architecture – and a layer by itself does not make any customer happy.

Henrik Kniberg's wonderful illustration is one more way to see why Layers (or building component-by-component) is not the way to make your customers happy.
Slices
Finally, here's a third way to look at "what to do."
Withdraw cash – debit card
Withdraw cash – credit card
Transfer money
Check my balance
Deposit cash
Withdraw cash EURO
Withdraw cash USD
This is what we want!
A good way to get to this way of slicing is to have "Who will use the system, and what will they be using it for?" as driving questions throughout our slicing.
This is the kind of break down that makes a good plan. Each of the items on this list is something that can make a customer happy. And they are, to a large degree, independent so you could develop one of them and release it, and fulfill a customer need.
Organizing what you want this way enables you to have the best possible basis for making a plan that drive your development efforts towards "making our customers happy".
Again – Henrik Kniberg's illustration provides one more way to understand why slices can help us find out what to do to make our customers happy.
Refer to Kniberg's blog if you want the full story: making sense of mvp
The how-to's of slicing and understanding together
Now that we have covered the importance of slicing right to deliver value to our customers, let's focus on how to slice, and at the same time build a common understanding. Here's the how-to's that we will cover in the reminder of this article:
Understand together
Determine how many slices/epics
Try use cases instead of user stories
Go deeper with use case camps
Understand together
First of all, never have someone write the requirements on their own. In order for the slicing to produce a good starting point for the master planning, it is critical that there is a common understanding of the content of the epics.
As shown in illustration Two People at a Whiteboard, we know that the best possible way for humans to understand each other is when they're face-to-face, for example by a whiteboard.
The illustration Understand Together shows two different ways to represent an understanding. To the left, the understanding is in people's brains. To the right, the understanding is written in a document. It is infinitely more efficient to start by helping people create a common understanding in their brains by talking, discussing, illustration (Two People at a Whiteboard) – and then write down what they agreed (going from left to right).
How many slices/epics?
In our experience, the right number of epics – where each epic is one slice of the system – seems to be 20-30 regardless of the size of the system. If you have fewer, you're probably not deep enough in understanding the requirements.
If you have more, you likely have too many details at this point, which will make your master planning confusing, not creating the overview you want. In addition, it will not leave enough space for decision-making for all the people in the big room planning – thus jeopardizing the feeling of ownership from the people who will actually build the product.
Epics in a larger program will be bigger than epics in a smaller program – and that is completely okay. In both larger and smaller programs, having 20-30 epics has proven to work best.
So if you have too many and too small epics, you need to cluster some more detailed epics into one bigger epic. Story mapping, described in the first article in this series, is a good technique for that.
If you have too large epics, you need to slice them thinner. One example of a thin epic in a travel booking system is a limited early epic that only allows you to book travel if you want:
a one week trip – Saturday to Saturday
two people in a double room
staying at Hotel Palma de Mallorca
paying with a Visa credit card
flying economy
While there is always some groundwork before you can get the first actual release out to your customers, this way of thinking minimizes the amount of groundwork, and also minimizes the time until you can get your first actual feedback loops going, making it possible for you to know (not just think, but actually know) whether you're on the right track to delight your customers.
In the above example, we would actually build and release the solution specified, with a very small amount of potential business, but with a potential goldmine of learning opportunities via feedback loops from the actual use of our system.
Try use cases instead of user stories
Agile and Scrum brought a different format for writing requirements: the user story. An example is:
As a bank customer, I want to withdraw cash from my account, so that I can buy things from people who only accept cash.
Seen in isolation, this is a nice and brief way to write a requirement. It even keeps us from going in too much detail at this early/general level.
Now, consider this user story:
As a bank customer, I want to key in my own personal 4digit pin code, so others cannot get access to my account.
Suddenly we are very detailed, and now have two overlapping user stories on two very different levels. And while there are guidelines to prevent this – including INVEST (stories should be Independent, Negotiable, Valuable, Estimable, Small and Testable), I quite often see people end up with stories that are overlapping and very different in the level of detail, which leads to a sometimes serious lack of overview. This challenges the common understanding and often leads to programs with no predictability or transparency.
What can we do about that?
There's a different way to structure your requirements. It will bring back the predictability and the overview, and it will help you slice right. It's called use cases, and though many have learned and used this requirement modeling technique, it seems forgotten for the most part. Use cases sound very similar to user stories, and while they have similarities they also have big differences.
Use cases were introduced in the '90s and became very popular, and maybe somehow connected to waterfall development, and therefore got a bad reputation. Use cases do, however, offer a firmer structure and an overview, which is what many agile programs need.
Use cases have four easy-to-understand guidelines to help determine whether you have a real use case on the right level:
A user can do it in one sitting
A user can do it in 2 – 10 minutes
It is natural for the user to take a coffee break after doing it
It provides value to the user
Over the years, I have seen several Agile programs re-create the overview and common understanding, and thereby the program's transparency and predictability, by remodeling all their requirements into use cases.
There are three things in use cases to drive you toward epics that are actual slices, which are potentially releasable to your users:
Giving the use case a name, preferably a verb and a noun (e.g., "withdraw cash")
The above mentioned four guidelines, with the coffee break test as my favorite. ("Yes, it does make sense for the customer to have a coffee break after withdrawing cash.")
The use case diagram, where you draw both the user and the use case (see illustration use case diagram)
A quick summary of the reasons to consider use cases instead of user stories:
Use cases provide a structure that user stories don't
Use cases drive you toward slices and potential releases to your users
Each use case has a name, to help you with the overview
The use case diagram gives you a onepage visual overview of the whole
The guidelines for when you have a real slice, a real use case, are easy to understand
Go deeper with use case camps
So, what is a use case camp?
The very short answer is: a use case camp is a facilitated requirement workshops with participants from both business and IT.
A little longer answer: it is 10% use cases and 90% workshop/facilitation. Participants discuss how the user will be interacting with the system, and because both the user's perspective and the system perspective is in play, it sparks substantial and passionate discussions, where all stakeholders are involved in creating the overview and the sliced epics together.
Interested in trying a use case camp? Here's the how-to:
A. Set the stage
Depending on what has been discussed and decided on earlier in the project, someone needs to set the stage… An inspiring talk about the program, the scope and the benefits we're about to create.
B. Brainstorm use cases
After the introduction, split the participants into groups of three to four people – with business and IT people in each group – and ask them to brainstorm use cases on sticky notes.
This step can be supported with documentation about scope, processes, and business goals that have been produced earlier in the project. Strange enough, we often see that the participants do not use or need these documents. They seem to have a better understanding and knowledge than the documents offer.
When the brainstorming is over, the groups post their notes on a poster on the wall. No grouping or ordering is needed. Actually, it is better if they do NOT order or group at this point because this can lead to discussions that fit much better in the next step.
C. Use case diagram & brief descriptions
This step is where we start getting to the meat. We are still at the overview level, but we always get deep discussions and new insights during this step. This step usually takes at least half of the use case camp. Between one and two days for this step is a minimum.
Explaining the illustration "Use case camp":
First, get the participants to pick one of the sticky notes from step B "brainstorm use cases". Check if other sticky notes are related, and include them in the discussion.
Then as the facilitator, together with the co-facilitator, get people to agree on a name for this use case, eg. "witdraw cash".
Add the use case to the whiteboard together with the user role, the stick fiture and the name eg "bank customer".
The facilitator and the co-facilitator now work together, ready to type and display what the participants agree upon.
Now everyone is discussing the use case while the facilitator is in close collaboration with the co-facilitator, who is typing, and getting everyone to agree on two or three sentences that describe the essence of the use case.
This order is important, because it creates an intense focus on one thing at a time.
We have found it essential that the room and the AV tools are exactly as shown on the illustration.
Left: the sticky notes from the brainstorming
Middle: a whiteboard for drawing the Use Case diagram, as we go (must be a whiteboard, because we change things over and over again)
Right: the brief descriptions projected on the wall
D. When you're done
When you're done with all the sticky notes and you have your use case diagram and a brief description for each use case, you have not only sliced your requirements right, you have also created a common understanding among all the participants in the use case camp, and thus you have a number of ambassadors, who can go out and cast light over the entire program with this overview and common understanding.
Summary
The difference between slicing right and wrong at the program level can have major consequences for the success of the program and even the business.
In this article, I've shared why and how to slice right – how important it is for the entire program – for common understanding, for predictability and transparancy, and for success.
You can create more structure in your requirements by working with use cases rather than with user stories. And you can create a common understanding at the same time if you decide to model your requirements together in a use case camp.
Scaled Planning
Scaled Planning, including slicing and master planning, is a pragmatic approach to help you with your scaled planning challenges. Scaled planning uses the organization's overall strategic objectives (the target in the middle of the illustration) as the starting point, and from there involves four levels of planning:
Slicing
Master planning
Big room planning
Sprint planning
And now to the Mifid Program and the first big room planning in June
After I joined the program in May, one of the first things we did was to set a date for the first big room planning for June 16-17. We invited everyone on all the involved teams plus other key stakeholders from the Business and a couple of the people responsible for the organizational implementation. There was a lot of discussion about the timing. The big question was, "Will we be ready?" … Pia, the Chief program points, Sally the Chief scrum master and I kept to the date, thinking that it would drive everyone to get ready. And it worked. Almost as great as we thought it would. More on that later.
Before the big day, Pia had managed to get the various parts of the Business to describe and deliver the epics that they needed, seen from their individual points of view.
And then, finally, June 16th came and everyone met in a big room. After Pia reminded us about the business benefits of Mifid (compliance to the EU regulation & better investment advice and service for the bank's customers), in my role as the main facilitator, I presented the program for the two days. See illustration: Planning agenda – for each team.
Each team chose the epics they felt belonged to them (see illustration Epics & teams), and started to break them down into user stories.
And then the problems started …
The Online Banking Team did not see that they had any epics of their own. So why even stay at the big room planning?
Another team had 12 people sitting around a table. A couple of them were talking, and all the others were just sitting quietly looking frustrated.
Other teams – with better dynamics – simply did not understand the epics, and therefore had a really difficult time breaking them down into business features.
What a mess!
I asked the Online Banking Team to step outside with me so we could talk. I had a burning question about how they were organized. Their team seemed like a silo to me because they were "just" a channel for everyone else's products – including the investment services. But I didn't talk to them about that, since it was not this team's idea to organize in this way. Instead, we agreed that they would split up and participate in the big room planning with the other teams. Which they did, sort of. It took a lot of nudging to keep them close to the other teams.
Pia, Sally and I agreed beforehand that we would split the teams between us, and facilitate two teams each.
Tips
Throughout the article, you will find highlights and tips – in boxes like this one. Here comes the first tip …Have enough facilitators for big room planning
Based on the level of Agile & team maturity, make sure that you have enough facilitators for your big room planning. One facilitator can typically handle between one and three teams.
The 12-person team was another nut to crack. It was simply too large a group to do any meaningful planning together. I approached them and told them. They all just looked at me, and right before I was about to just tell them to split up, Pia came up to me and whispered, "Shhh, Ole. Try to let them be, see what happens". And then, after a few more minutes they all got up, and ended up in two groups, having two separate discussions. And soon, they were working on two separate team boards. They had self-organized into two teams. Awesome!
Create ownership by giving control
In a large program (and in all other situations for that matter), you want the individual people to take ownership. Otherwise, you will never succeed. With so many people, there is no way that you as a manager can plan and steer the program to reach the goals. And you can only get them to take ownership if you give them control, rather than you taking control.
Now, we only had the we-do-not-understand-the-epics problem left to solve. But no matter what we did during this big room planning, it did not solve the problem.
It became painfully clear to us that we introduced the problem ourselves by having the individual parts of the business describe and deliver the epics to the program. Had we pushed too hard by sticking to the June date? Would the teams have been more involved in describing, and thereby understanding, the epics if we had given them more time? Actually, we did not think so. We took this as a learning opportunity – promising ourselves to support the teams to better understand the epics before the next big room planning three months later.
Set a date – drive people to get ready
Setting a somewhat optimistic date for the first big room planning is a driver for everyone to get ready. If you wait until everyone is ready, you might wait forever.
Slicing – Refining – Understanding
After the teams somehow managed to get going on developing some of the business features (there was a lot of interaction with the business – finally!!), they wanted to get ready for the next big room planning. There was a pull from the business side, which I thought was wonderful. We had created a sense of ownership. It was no longer the program management's plan – it was their plan.
One of the teams asked me to help them by giving them the answer to this question: what does a perfect epic look like?
I looked around at epics from my past programs. And other epics from other programs. And I thought about it, and I kept looking some more, becoming frustrated that I couldn't find a single epic that I thought was perfect.
Then I started thinking about what had made the difference between successful programs and unsuccessful programs, and realized that it had nothing to do with the format of the epics – or any other templates or requirement specifications for that matter.
I met with the team and shared with them what matters when it comes to slicing and refining requirements:
Understanding together
How you slice your epics
Format of description
Prioritized, and in that order, so the epic format is the least important of the three.
We did two things to start understanding together. First, we grouped the requirements they had brought with them. A good mix of epics, features and stories. Someone asked: "Is this Story Mapping", and I said, "Yes", and explained how I see Story Mapping as simple as: laying your requirements out on a table, and moving them around to create a structure that makes sense, preferably with potential releases as a part of the structure.
This led to a heated discussion about how to organize the requirements. Most of the requirements were about three new investment banking products from simple investment advice to full investment portfolio support. Most of the people argued that the slices (the potential releases) should be the products, so we would develop one product 100%, release it to the market, and then move on to the next product. A couple of other people argued that we should first get all the legal issues figured out for all three products while we had the lawyer involved anyway, then the marketing plan for all three products, and then everything else before launching all three products at the same time.
I recommended the product-by-product approach (see illustration Story mapping – which way?) as a better way of slicing, in order to get to actual smaller and potential releases earlier, to increase early feedback and learning. That was what the team agreed on.
Now it was time to go deeper in each of the requirements, and we did that by taking one requirement at a time, and refining in this way: 1. Brainstorming all questions that we could come up with and write them on red sticky notes and post them on the paper with this particular requirement. We kept going without answering any of the questions until we could not think of more questions. 2. Then we started trying to answer the questions one by one and wrote the answers on green sticky notes. Some questions we could not answer, so that became the program points' responsibility to find the people who could answer those questions.
Understand by asking all the questions first
A good technique for getting people to create a deeper common understanding is to have them brainstorm all the questions they can think of before you start answering any of the questions. It helps cover more ground than the usual question -> answer -> question -> answer. This is very useful technique for backlog refining, including refining ahead.
Slicing and understanding – start from scratch
Meanwhile, a different team on the program worked to figure out some of the epics from the big room planning that they still did not understand. The scrum master had printed them all out and organized a workshop and the program points was ready to try to explain.
For the first couple of hours, they sat around a table having a discussion around these epics. But they didn't really get anywhere. There were no conclusions. And it felt confusing. We agreed to move to the other end of the room and lay out the eight epics, and started to write tasks on index cards, and place them by the epics. No matter how hard the scrum master tried to organize the cards, and no matter how hard the program points tried to explain what he thought was in each epic, the confusion didn't go away.
Then someone said, "Why don't we push all the old epics aside, and write our own new epics. That way we don't need to guess what someone meant when they wrote those old epics."
Then something happened!
After just a couple of more hours, the team was ready with their new epics, ready to run them by their stakeholders to make sure that they were still on the right track.
Understand by starting from scratch
It can often be more efficient to create a common understanding by starting from scratch and trusting the knowledge and memories of people, rather than trying to interpret someone else's work.
Getting ready for the next big room planning – with master planning
While we were getting ready for the next big room planning in October, we talked about all the problems we had the first time, and realized that two more things had not been optimal:
We did not have a clear enough picture of the long-term plan for Mifid
The different parts of the business did not agree on what was most important and urgent
We did have a master plan from last time, but it was only really robust for the next three months and shaky for the following many months. Therefore, people got confused about what to take into this big room planning and what to postpone for the future.
Also, some business areas were very keen on living up to the Mifid regulations in every detail, where others were more focused on the customer experience.
In other words, no clear direction. Leaving room for people to spend a lot of time discussing the direction, and to pull in different directions, during and after the big room planning.
We decided to get additional stakeholders involved in a master planning session in late September, before the next big room planning in October. We invited the program points from each team, the steering committee, three business heads and Pia, Sally and myself – a total of 12 people.
We started by getting a feel for how far we were after three months. Out of a total of 15 epics, two were finished and seven were at around 50% done. Not where we wanted to be.
Then, we estimated the epics using planning poker with t-shirt sizes. It was great to see the level of engagement from everyone.
We prioritized and I insisted that all epics were in one line to get the business heads to agree on what was most important for the entire company. One of them said to me, "I know what is most important for my area, but how can I know what is most important for the other business heads?" He said this while he was standing right next to one of the other business heads, and I just smiled, and looked around the room. "Ahhh", he said. "I can just talk to them." Bingo!!
After they had a really involved discussion about how much they thought we could get done in the upcoming three months, they reached a conclusion: the next 26 epics.
Meanwhile, I had done the math (see illustration Program points). I had calculated that the epics we had planned for the first three months were equivalent to 228 points using a conversation scale from t-shirt sizes to what I call program points. We only got 125 done (97 of the planned, plus 28 extra unplanned work).
Using the same method, I figured that they were about to aim for 606 program points in the upcoming months!
We adjusted the ambition significantly, and we were ready for the next big room planning.Gauge program progress by rough program points
Rather than only gauging program progress by summarizing all the detailed progress reports, which often is very time consuming, you can get a quicker and earlier picture by rough estimates on the high-level epics, and do the math on those.
Next big room planning – October
October comes, and everyone got together again. We saw more people than last time. The Online Banking Team brought some of their colleagues. And a couple of the business heads showed up too. Apparently, people heard about it, and wanted to be a part of it.
We started by looking at what we had achieved the last three months, using the same overview as at the master planning. And then, we presented the result of the master planning, which was still somewhat ambitious, but not at the 606 Program Point level anymore.
Then the teams gathered around the epic overview board, and this time we asked them to think about all the epics in which they played a role, even if it was a small role. We then got everyone to put a small colored sticky note representing their team on those epics (see illustration Epics & teams II).
After about one hour, we had an overview of which teams were primary drivers on which epics – and which other teams were also involved in each epic.
It surprised us how powerful this was. There were a lot of people standing by this board, coming and going throughout the two days, and it was usually people from different teams having a discussion about what they needed from each other, how they could help each other.Increase cross-team collaboration by visualizing team-epic involvement
Making it visible that more than one team is involved in the various epics increases the cross-team collaboration during and after the big room planning.
The next thing that happened, with surprisingly little guidance, was that the teams started to break down and estimate. I noticed that both Sally and Pia hardly did anything to make it happen. And neither did I.
I was very happy, thinking that all our not-telling-people-what-to-do, but rather letting them drive their own understanding and making their own decisions, and also involving and engaging them in the first big room planning, was now clearly paying off. The new ways of working had been internalized in the teams and people. We were about to achieve lasting change!
While the teams worked on their planning and collaborating with other teams, Sally had time to improve the program board, getting it ready for the teams to post their features. She had brought some nice tape, and organized the board, including measuring out the space for a certain number and size of sticky notes per team per sprint. Meanwhile, she was thinking that the first program board had a lot of information on it, making it harder to get the overview. So, she decided to ask the teams to give their features a short name, and only write that name on the sticky notes that they put on the program board.
The result was a much better structured program board with fewer details, giving a far better overview, and therefore, a far better tool for the weekly Scrum-of-Scrums, where all scrum masters, program points and other stakeholders gather to coordinate and gauge actual progress and comparing it to the plan.
I was curious about the perception of the time spent on the big room planning, so I asked a few of the people who had been skeptical the first time. Here's what a couple of them said:
How has it been to participate in the big room planning?
Two days is a lot of time. Has is been worth the investment?
What could we have done differently?
Of course, not everything was perfect. And we kept learning. One of the main things we should have done differently was this:
We experienced a need for extra attention on one of the epics. The deadline for this particular epic was harder than the others, and it was more complicated with more teams and stakeholders involved. We tried to fix it by nominating an epic owner, and it helped, but not enough. We did not meet the deadline, and therefore had to pay for one more year of a particular software license. Looking back, we should have insisted on moving the two most involved teams closer together.
Summary
This was my story, which I hope gave you some real-life-perspective on the key takeaways that I mentioned in the beginning of the article:
Getting ready for a two-day big room planning takes time. Prioritize it!
Early on, set a date for the first big room planning to drive everyone to get ready.
Then, involve teams substantially in understanding the epics by slicing and refining.
Now, get key stakeholders to agree on direction by building a master plan together.
Finally, when you run your big room planning, adjust the number of facilitators according to the maturity of the teams, and know that your first time will generate a lot of learning for your next time
Next articles
In the next articles in the series, I will dig deeper down into slicing, master planning and big room planning, sharing more experiences and giving more specific tips and tricks. Stay tuned …
Scaled planning, including slicing and master planning, is a pragmatic approach to help you with your scaled planning challenges. Scaled planning uses the organization's overall Strategic objectives (the target in the middle of the illustration) as the starting point, and from there involves four levels of planning:
Slicing
Master planning
Big room planning
Sprint planning
While the various scaled frameworks provide a useful framework for the quarterly big room planning, where all teams and stakeholders get together for a couple of days, and while most organizations know how to do sprint planning, many struggle with getting 100% ready for the big room planning. This is where scaled planning with 1. slicing and 2. master planning comes in.
Why master planning
Let me start by sharing a story.
I was consulting with a program in a ministry working on an important new system for the Danish government. When I got there, they were organized in "offices" after competencies, so we had the lawyers in one office, business process in one office, IT in one office, and so on. There was some collaboration across the offices, but not enough to reach an agreement on epics and what to build first.
We managed to reorganize most of the people into cross-functional teams. Then we ran a "use case camp" (described in article 2 "Slicing and understanding together"), which gave us the epics – the platform for our big room planning.
At first, everything seemed really great. We gathered all members from the new cross functional teams for big room plannings every three months. They coordinated work and dependencies, and the development started to take shape. It felt great…
Until one day, when during a big room planning the program director presented his updated view on the minimum viable product (MVP) to be delivered at the end of the next quarter. There were so many questions and not many clear answers. Then, to make matters worse, the head of business processes took the stage to make some clarifications, and she told a totally different story. It did not match the program director- who by that time, had left for a different meeting-'s MVP vision.
Having no luck with talking the program management into getting the teams to deliver something to the end users within a few months to get a victory and to get the feedback loops going, I decided to leave. Having followed the program on the side ever since, I know that these 4-6 teams have spent more than a year battling these unclear goals. Without a single delivery to the end users. Without any feedback loops to help them navigate towards delighting their future users.
And there are so many stories like this. Stories about talented people getting together to build great products, and then ending up with very low productivity due to lack of clarity, due to the absence of a common direction, due to the absence of a master plan.
So why do we do master planning? We use master planning as a driver for getting key stakeholders to agree on one common direction, which help the individual teams to align and work better together.
And by the way – last time I talked to my friends at the government program, they had decided to make an actual delivery within a month. Finally!!
Getting ready for the master planning
I will let you in on a secret. Running a master planning can be really easy, once everyone has a common understanding of the rightly sliced epics and once you get the right people in the room.
Before getting started, I strongly recommend having each epic on one card (A4/letter size). With the name of the epic in large and bold writing so everyone can read it from the other side of the room. And I recommend having a limited number of details on each card to keep the overview and the discussions at a high level (saving the more detailed discussions for the teams later in the Big Room Planning). See "Withdraw Cash – USD" example.
Next, set up the room with one long table: long enough for all the epic-cards to be placed next to each other – and no chairs, because we want people to be able to walk "up and down the plan" at the table.
On a side note, some might suggest that withdraw cash is too small to be an epic. That all depends on the size of the entire program – and in this example withdraw cash is one of around 25 user scenarios, and then it works fine as an epic. If withdraw cash was one of eg 100 or 200 user scenarios, then you would have it as a feature in an epic, maybe with the name "handle cash".
In short:
Your epics printed on cards, big enough for everybody to read the headline from across a table
A room with a table long enough for all the epics in a long line
One set of estimation cards for each person with t-shirt sizes; S, M, L, XL, etc.
And the right people are:
Key-stakeholders, including the teams Scrum masters and/or product owners
Preferably the same people that participated in the slicing and understanding together
Between 6 and 12 people is a good number
When you have the above in place, you're ready for your master planning. And then you should go for it. Rather than waiting and trying to become even more ready, which I've seen a lot. The thing is, that while there will always be more you can analyze and prepare, chances are that there will still be things you've missed, and you will never know exactly what those things are until you go ahead and run your first master planning.
Why have the product owners and Scrum masters participated?
It is important to have the product owners and the Scrum masters participate in the master planning. Both because they have a lot of information that should be included in the planning, and because they will have more ownership of the master plan when they have been involved and engaged in creating it. In addition, they will get a deeper understanding of the entire program during the master planning. An understanding that is not just important to bring into play during the Big Room Planning and Sprint Planning, but certainly also in their day-to-day work in the individual teams.
Why is it important to get all important stakeholders to agree?
We also take advantage of different opinions about what is most important when we have representation of all the roles as part of the master planning. These differences can, if not dealt with and agreed upon in this forum, create a lot of harm when it comes to how efficient teams can work and the subsequent value that is created. If the stakeholders send mixed signals – if they try to work their own non-matching agendas – the teams will end up spending a substantial amount of time trying to figure out who to please internally, rather than focusing on developing products or services that make the customers happy.
The how-to's of master planning
Let's get into the meat of the master planning. It includes these three steps:
Estimate
Prioritize
Decide epics per quarter
Sometimes I switch the order of Estimate and Prioritize around, particularly when we have too many epics to cover in the time set aside for the master planning. In that case, it makes more sense to mainly/only estimate the most important epics according to the prioritization.
1. Estimate
In this first step, we want the participants representing the people actually developing the services to be in the driver's seat. We will call them the "delivery people". They are the ones who will be doing the work, so they know best how much work each epic will take to develop (typically, they are Scrum masters, architects, test managers. etc.).
In this step, we want to have a substantial discussion about each epic . That is one of the reasons why I recommend relative estimation. Relative estimation seems to guide the discussions away from comments like "Really? How can it take you that long to…?", and more towards substantial discussions about the essentials of the requirements and how to build the solution.
At the master planning, we typically do not have enough details for people to feel comfortable about estimating in numbers. Therefore, I suggest using t-shirt sizes (S, M, L, etc.) which seems to work better. We can always agree on a conversion from t-shirt sizes to estimation points toward the end of the master planning to be able to calculate the planned and actual velocity of the entire program, as a part of the program governance.
Apart from my comments above, we estimate by using this commonly known Scrum estimation process (you can skip this part if you know the planning game already).
Identify a Small Epic: driven by the delivery-role people – we agree on a fairly small epic – and set the estimate to Small.
Choose Next Epic: a business person chooses the next epic, reads it out loud – and adds what she is thinking about the epic at this point in time.
Discuss Epic and Solution: delivery people talk about how they will build this epic. They get comments and questions from the business people, they discuss and agree, and add notes – typically about what to demo – on the epic card. Also potential epic-specific risks are marked on the epic card. I prefer to use a red marker for this.
Estimate Individually: delivery people take their t-shirt estimation cards, and individually decide how big this epic is compared to the Small epic from step 1 – and when everyone has decided, they turn and show their cards.
Listen to Smallest and Largest: if there is disagreement, the person with the smallest estimate and the person with the largest estimate share why they think the job is so small or large – and then we do step 4 again.
Write Down Estimate: when there is good enough agreement, then the estimate is noted on the card.
Do It Again: go back to step 2 and continue until there are no more epic cards to estimate.
The above seven steps can take forever, unless it is facilitated in a fairly strict manner. Timeboxing works great. My favorite way of timeboxing is to just time the first two to three epics, do the math and share it with the participants. A typical question from me could be: "We have now estimated the first two epics. It took 1½ hours – and if we continue at that pace, it will take us three days to estimate all the epics. Do you want me to help you timebox?". The answer has always been, "yes," and then I typically set a timer to 10 minutes, which speeds things up.
Remember, this is the overall planning. We do not want to go in much detail, because we want to get the overview and because we want to save the more detailed planning for when all the people, who will actually do the work, are present in the Big Room Planning and the Sprint Planning.
In this estimation process, it is very normal that some epics are split up – and that other epics are clustered into one epic. It is also very likely that some foundation/enabler epics (also referred to as plumbing or architecture epics) are identified and described. I suggest using different colored cards for enabler epics to make it easy to distinguish between business epics and enabler epics. That comes in handy in the next step: prioritize.
2. Prioritize
In this step, we want the business to be in the driver's seat. They are the people knowing the customers and the market best, and therefore the best at deciding what to build and release first.
This is quite simple from a process perspective:
Order business epics: the business people talk the epics through, and order the cards in the priority they want the epics delivered. This will probably mainly be based on business value, which we sometimes quantify, but more often not.
Consider risks, dependencies and enabler epics: the delivery people listen, ask clarifying questions, and usually suggest rearranging the order of some of the epics. These suggestions are often based on epic-specific risks and dependencies between epics. Typically, they also suggest where to place the enabler epics in order to build the foundation for the business epics in time. And often they identify extra enabler epics – triggered by the deeper understanding they're getting from planning together with the business people.
Change the order – or not: the business people engage in this discussion with the delivery people, and then, the business people decide if they want to change the order based on the discussions and on the business priorities. This is where it is important to remember that the business people are in the driver's seat, so while the delivery people might suggest some changes, the business has the final say.
Walk the plan: when things seem to settle, we "walk the plan" together. Everyone gathers close to the early end of the plan (the first prioritized epics), and then a business person tells the story about why those first epics are most important, and then the next epics, etc. – while everyone walks with her down to the end of what we have planned so far. The walking is quite often disrupted by some new insights, discussions and decisions, in which case, some of the earlier steps are repeated before we do the next "walk the plan."
While prioritizing is simple from a process perspective, it can be very difficult to get to an agreement between business and delivery people, and especially to get agreement between different business stakeholders. One of the pitfalls we sometimes see is that these fundamentally different priorities are not sorted out, and thus they get to exist, confuse and delay (sometimes even destroy) the entire program.
This is where the facilitator needs to be strong, and get the parties to discuss and negotiate until they compromise and find common ground – so that the master plan serves as a clear direction from the key stakeholders to everyone else in the program.
I remember a situation in a master planning in a bank where the head of retail banking complained to me: "I know how to prioritize my own epics, but how can I prioritize them up against the corporate banking services?" I did not say a thing. I just looked over his shoulder towards Peter, the head of corporate banking, who was in the other end of the room. After a lot more complaining he stopped, then he was quiet for a bit while his wheels were turning. Then he suddenly said: "Ahh, I can just go and talk to Peter. We need to agree on what's most important for the whole bank." Bingo!!
3. Timing with epics per yearly quarter
In this last step, we're back to having the delivery people in the driver's seat since they're the ones actually building the products or services. The big question here is: "How far do we think we will be after the next three months? And then after the next three months?"
We ask people to base their answers on everything we've talked about so far, on their prior experience, on what they know about the program capacity and on their gut feeling.
This step is usually less structured than the first two steps, but if there is a structure, it might look like this:
Decide which epics go in the first quarter – and set a date and time for the first demo.
Discuss whether this is okay from a business perspective, and split up and consolidate epics until it is okay from a business perspective.
Decide which epics then go in the next quarter and so forth, until we have laid out all the epics we know according to a time perspective.
Do the sanity check of the plan, meaning check that no quarters have significantly more (or less) work in them than others. This is where the conversion between t-shirt sizes and estimation points come in handy for converting and summing up the estimates for all epics in each of the quarters. Usually, this leads to changes in the ambition levels of some of the quarters.
A little warning: when assessing and estimating how far we believe we can get quarter by quarter, it is essential that the people who will be doing the work drive these decisions. They are the ones who know, and therefore, they should be the ones pulling work into the upcoming quarters, based on how far they believe they can get. This way they get a substantial amount of influence, and therefore also ownership for the plan.
Pushing work into their plans by management or other stakeholders usually has the opposite effect: less ownership and also less realistic plans.
I am often asked about how far out in the future a master plan should cover. In my opinion and experience, it is beneficial to put everything we presently know about in the plan, and let that guide the timeframe of your master plan. In this way, we use the master plan in our discussions and coordination with the organization around us, including governance/PMO, who need to know to be able to plan ahead in the bigger picture. I do, however, suggest to be less and less detailed in the plan, the further out in time we go. We will be revisiting the master plan once every quarter, so when we get closer to future epics, we will have time to go deep enough to provide clarity for the program.
You now have your master plan that will give the rest of the program clarity about what to dig deeper into in the upcoming Big Room Planning and the Sprint Planning sessions, as well as all the day-to-day work.
Program governance with burn up diagrams
If you convert the T-shirt estimates to numbers as shown on the illustration "Program burn up", then you can easily make a visual overview of your program progress. I prefer to call these points "program points" to distinguish them from the planning poker points that the teams are using in their estimations in the big room planning and the sprint planning.
In this example, we had identified 7 epics from the beginning of the program, 3 blue, 2 red and 2 green epics. With the converted estimates, they total up to 150 program points, and we expected to finish the work in 3 quarters. On average we should do 50 points per quarter, but in Q1 we only did 30 program points. During Q2 we got back on track – and something else happened. We discovered two new yellow epics, both estimated to be large. So at the end of Q2 we believe that the total size is 190 program points.
Some prefer to add up all the detailed planning poker points from all the teams to get the overview of the program progress, which is possible; at least in theory, it is possible.
If you have a hard time collecting and adding all the planning poker estimate numbers up, I suggest that you try this T-shirt and conversion method, with these advantages:
You can get a handle on your program progress very quickly, since it mainly involves information from the key stakeholders as opposed to every single team member in the entire program
The teams can keep their planned and actual velocity for teamdiscussions about improving the way of planning and working on the team level
Summary
When you have been through the slicing and understanding together, you are ready for the master planning.
Getting ready for the master planning – the practicalities:
Meet Ida, the head of ReDI School in Copenhagen, a non-profit technical school. ReDi School provides women with refugee and migrant backgrounds valuable digital skills, as well as a strong network of fellow students, volunteers and alumni to gain new social and professional opportunities.